The Travel & Hospitality industry has a lot in common with the Media industry. Whether its hotel rooms, flights, TV space or poster sites, both rely on a high occupancy rate to stay profitable.
The demand dynamics for both industries are the same. When demand is high, both industries wish for more inventory, but during slow times, unsold inventory does not help to offset substantial fixed costs.
How can Corporate Trade help with fluctuating demand and unsold inventory?
The Travel & Hospitality industry need high occupancy rates for their rooms / flights / seats and to do this they need to advertise to drive both volume of sales and differentiation in the market.
Advertising can be a large expense without a guaranteed return on investment.
The Advertising & Media industry also need brands to fill their media spaces and have business expenses of their own that they need to pay for.
This is where Active International's expertise in Corporate Trade comes in. Corporate Trade (or Media Barter as it is also known) creates a marketplace where inventory, goods and services can be exchanged can be exchanged for media investment and add significant extra value to all parties.
Corporate trade allows companies to use what they have to pay for what they need.  

How does Corporate Trade work?
Corporate Trade (or Corporate Barter as it is often known) provides powerful solutions to a business by helping to partly fund media advertising costs using their existing products, services or even assets.
Active works with three different models of Corporate Trade that can each be tailored for a company's specific needs:
Guaranteed ROI – Used for businesses looking to gain measurable ROI from marketing spend
Marketing Solutions – Increase in media spend using inventory and services
Value Restoration – Used to mitigate costs involving slow moving inventory
See our Success Stories for examples of how we have worked with the UK's top businesses.
How has Active International brought Media and Travel businesses together?
Active has consistently delivered significant new business to over 30 Travel Partners, establishing new customer bases and managing bookings through their in-house ABTA and ATOL accredited Travel Agency.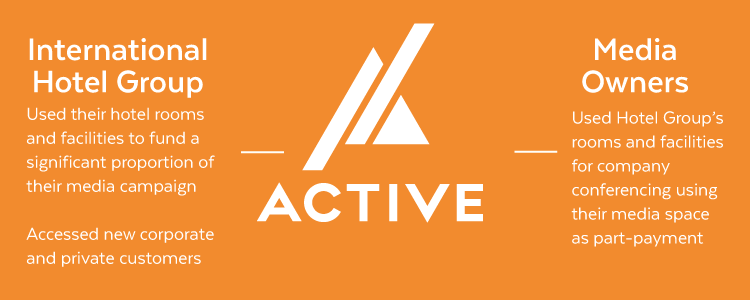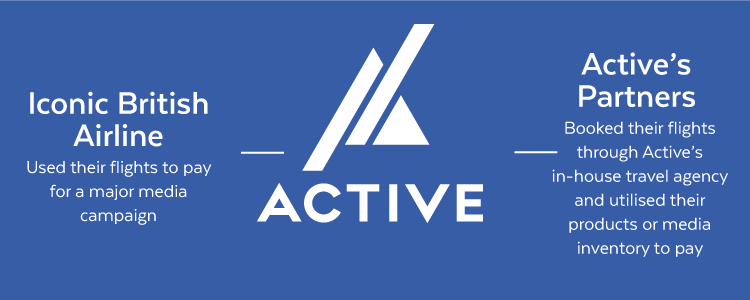 Benefits of Working with Active for Travel & Hospitality Business
•  The ability to part-pay for advertising using products or services
•  Create new sales channels from Active's partner networks
•  Preserves brand equity
•  Increase media spend by releasing capital tied up in products or services
•  Test additional or new media channels
•  Full visibility and control on how goods and services are traded
•  Media Agency plans and buys media as normal and Active works alongside
Get Ahead of the Competition and Achieve More
Corporate Trade brings new value to the market through an alternative way of trading, helping the Travel and Hospitality industry to preserve their cash reserves and make best use of their inventory to bring in new business or pay business costs.
With more competition than ever for a share of the consumer's wallet, using Corporate Trade to fund advertising is an ideal way of working smarter rather than harder.
To learn more, please contact us and we will be happy to explain how Corporate Trade (Media Barter) could benefit your business.
Watch our 'Conversations with Clients' webinar with Celebrity Cruises