This phenomenal achievement is a real tribute to the contributions that everyone at Active makes to our workplace culture. We ranked 14th (out of the total of 79 companies awarded) an improvement of 30 places from our position last year. Mark Chippendale, MD commented "We are hugely proud to have risen up the list of Campaign's Best Places to Work for the third year running. Embracing flexible hours and working from home has enhanced the work life balance of our employees whilst continuing to drive great results for our clients and media partners. But to truly understand why it is great to work at Active, you really have to be with us. The team are energetic, fun, passionate, creative and determined. We really care about delivering for our partners, connecting them in a way that enhances their mutual businesses and it is that focus and challenge which binds us together. Oh, and parties. We do like to party! "This award is a reminder of the unity and tireless nature of the company.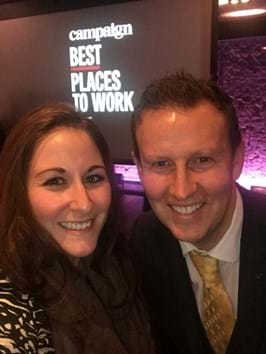 Holly Kennedy, Head of HR and Jarrod Gowland Smith, Director of Agency Relations at the Campaign Awards.
Holly Kennedy, Head of HR who attended the award night said "We are incredibly proud of being named as a Campaign Best Places to Work for the third year in a row and this accolade is just reward for the hard work that every single one of the team has put into the culture and energy at Active. This great achievement demonstrates the effort and commitment from all the team involved in everything we do; from our focus on developing our people, to our Active Wellness initiatives and our efforts in creating the best environment we can for each other. Our future is about us continuing to support our team to grow, be curious and be the best they can be"
To celebrate our big win we enjoyed a Shake Shack lunch in the office
.