Thanks to Active International's partnership with the Evening Standard, we have delivered the first of a series of advertising pieces for Demelza Hospice Care for Children.
We have worked closely with Demelza since 2018 and taken part in various fundraising activities. Over the years, we have sorted clothing donations in the warehouse, enjoyed a spot of gardening, helped out in the charity's shops and the office favourite, a held a tasty Bake Sale.
Since lockdowns and restrictions froze the country, we haven't supported Demelza as much as we would have liked. So we put our heads together and found this great way of showcasing what we can do as a company whilst also providing fantastic exposure for a local charity.
We are delivering various advertising spaces across Evening Standard publications over the next month on behalf of Demelza, helping them raise awareness and support their fundraising.
To learn more and help support please visit Demelza Hospice Care for Children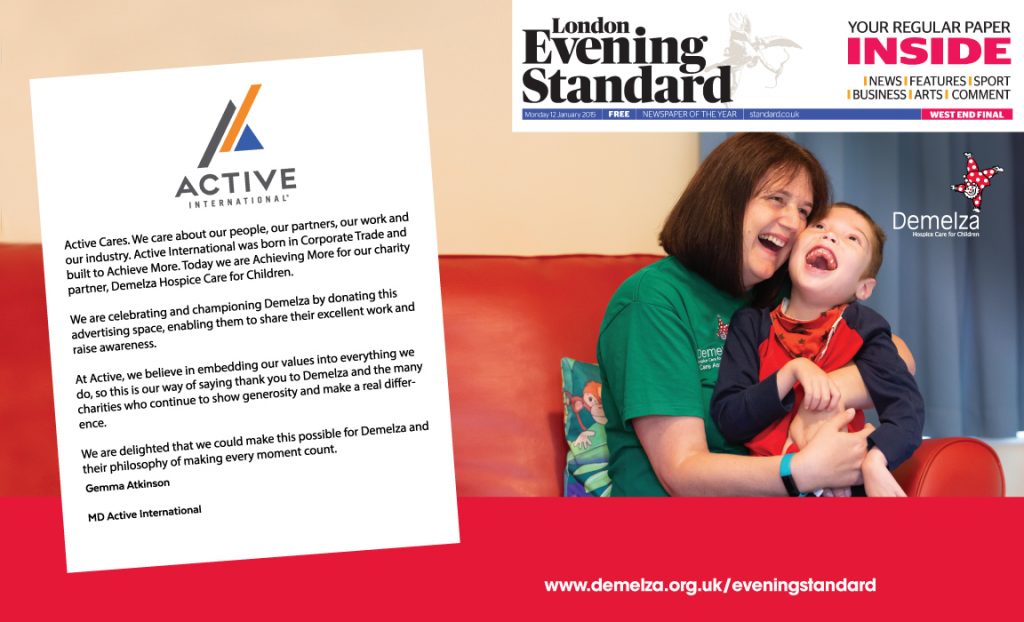 Letter from Gemma Atkinson, Managing Director published in Evening Standard
Active Cares. We care about our people, our partners, our work and our industry. Active International was born in Corporate Trade and built to Achieve More. Today we are Achieving More for our charity partner, Demelza Hospice Care for Children.
We are celebrating and championing Demelza by donating this advertising space, enabling them to share their excellent work and raise awareness.
At Active, we believe in embedding our values into everything we do, so this is our way of saying thank you to Demelza and the many charities who continue to show generosity and make a real difference.
We are delighted that we could make this possible for Demelza and their philosophy of making every moment count.
Gemma Atkinson
MD Active International