After rescheduling our fundraising event for Demelza Hospice Care for Children four times due to the pandemic and inclement weather, we finally and literally took the leap!
Our brave fundraisers initially signed up for a skyscraper abseil over two years ago, but we upped the ante with eight Activians jumping out of an aeroplane 12,000 feet above the Kent countryside on a beautiful summer's day.
"They ensure no family member is feeling overwhelmed and offer a lifeline when times get challenging. I couldn't think of a more deserving charity to support", Daredevil Lydia Allison said of our long-standing partnership with Demelza, who we have supported with several fundraising events and activities since 2018.
Thank you to all the Activians, colleagues, friends and family who have helped us surpass our £4,000 goal and well done to The Great Active 8, who risked life and limb for a worthy cause: Chris Stone, Lydia Allison, Mark Henson, Georgia Myers, Kieron Murphy, James Locke, Shalima Koroma and Perry Brown.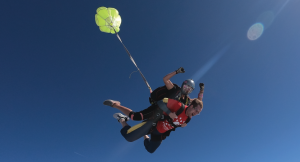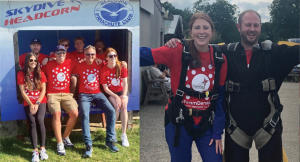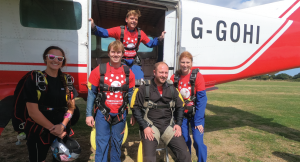 If you still want to donate, our page is still open for donations:
www.justgiving.com/fundraising/activeinternational-thegratedescent2020
Read more about the great work Demelza Hospice Care for Children do.